It's official. Profit First author Mike Michalowicz (that's pronounced Mick-allo-wicks) is the keynote speaker at PrintHustlers Conf 2019.
Mike Michalowicz wrote Profit First because too many business owners are starving their future. They're not building profit into their business. Instead, they're skipping their salary and floundering in debt.
I hopped on a call with him and we had an awesome chat. Listen in here:
PrintHustlers Conf 2019. July 12-13. Downtown Chicago.
Are you struggling to turn a profit?
Is your business something that keeps you up at night – and not because you're so excited to work on it?
This book has actionable advice for creating a simple way to manage your accounting. It shows you how to conquer some of our worst (and most natural!) habits as business owners.
Once you've implemented profit first, you'll get an accurate overview of the health of your business – at a glance.
You might not like the picture at first. But business owners that really stick to Mike's core principles prove that profitability isn't just possible – it's easy when you make profit an automatic part of your operations.
PrintHustlers Conf 2019: Packed with legends and experts
Join us for two days of inspiring, insightful, and candid knowledge. PrintHustlers Conf has gathered more than a dozen figures from across the industry to discuss topics vital to your success.
We've enlisted Ryan Moor from Ryonet and Allmade Apparel to talk about leadership and sustainability. Ryan is one of the most powerful advocates for screen printers on the planet. His relentless positivity will get you fired up to lead with your long-term vision in mind.
We've got Max Hellman from Family Industries to talk live printing, an exciting opportunity for nimble and effective marketing. He and his team do hundreds of live events every year for top-tier brands – while running a top-notch production facility at the same time. Learn how Max thinks and what he does to stay sharp on the road.
And Mark Coudray from Coudray Growth Technologies – 50 year veteran of the screen printing industry and deeply respected consultant – joins us to discuss sales and growth strategies that will launch your business to the next level. See how Mark's clear and digestible guidance can rearrange your thinking to make your decision making skills more powerful.
That's not all – see the full list of speakers and learn more about PrintHustlers Conf 2019 here.
Get what you need to succeed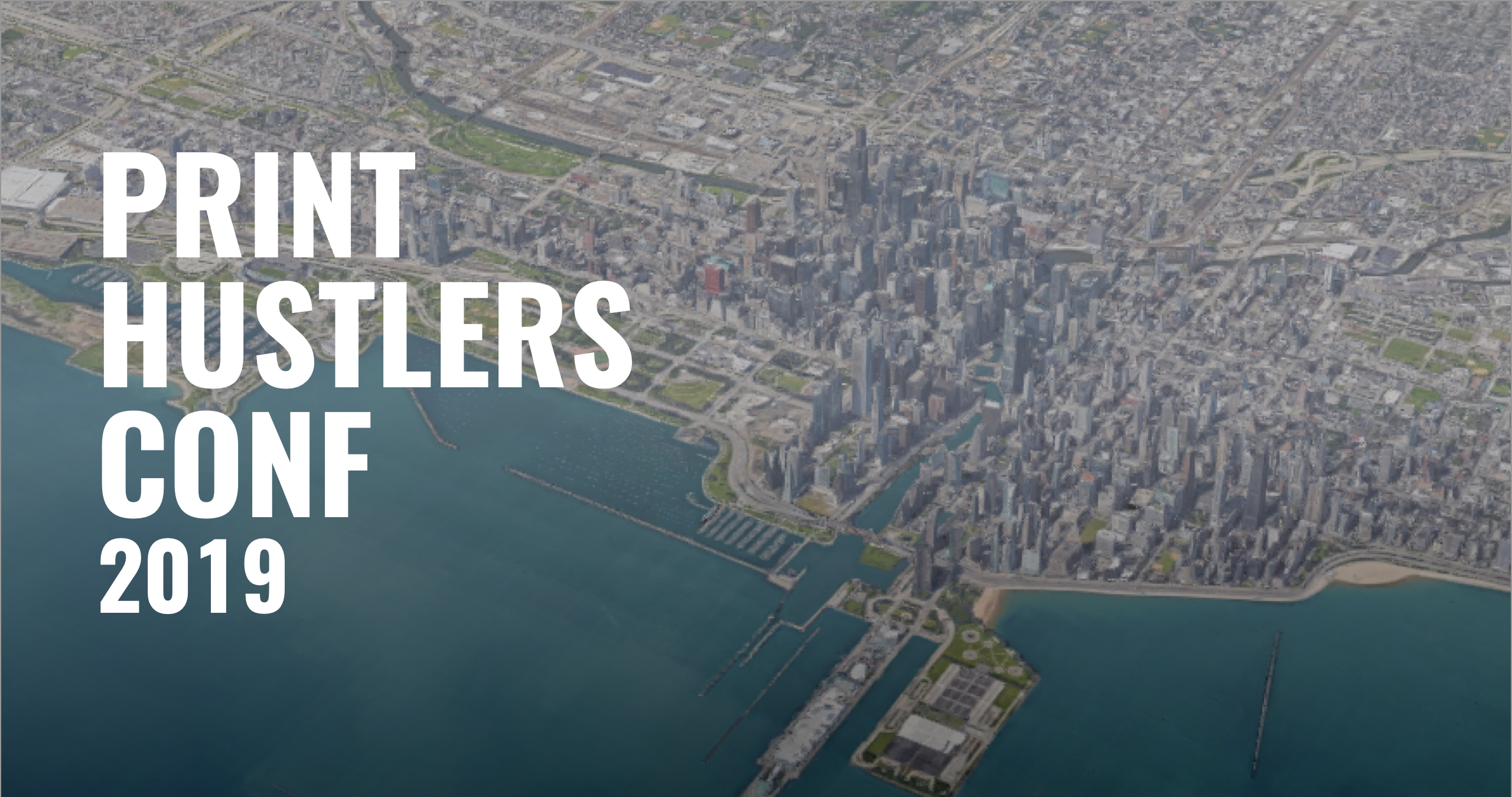 We live in a time of unprecedented upheaval and change. Business models are changing, marketing channels are shifting, consumers expect better and better levels of service with faster turnaround times.
Turning a profit in this environment is a challenge. You have to add real value to your customers – but keep your own salary coming, too.
Costs are rising alongside wages. The labor pool is tightest it's been in generations. There is real competition from giant on-demand businesses with gargantuan budgets for marketing and research. To get ahead of the curve, you've got to start building your brand and nurturing your customers.
Invest in yourself and your future. PrintHustlers Conf 2019 is the place to be if you're ready to push yourself toward success.