THANK YOU! PrintHustlers Conf 2019 was incredible!
Thank you so much to everyone that joined us for two days of learning, connecting, and growing.
We are deeply grateful for the Print Hustlers community and can't wait for PrintHustlers Conf 2020!
Check out our in-depth recap of Printavo's 2019 PrintHustlers Conf to see what you missed.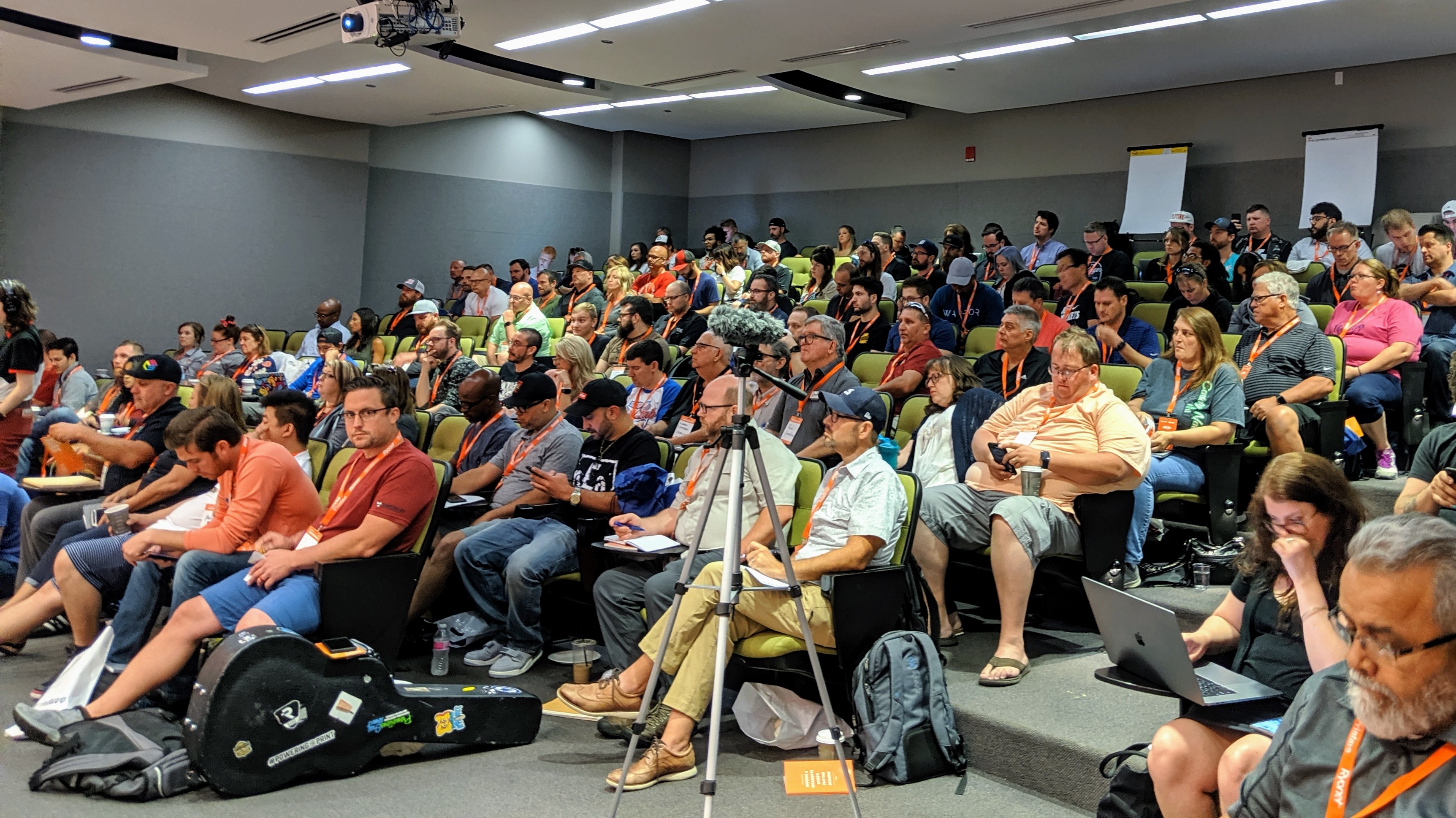 Ready for PrintHustlers Conf 2019? It's at The Flats at East West University (829 S. Wabash Ave, Chicago) featuring two days of amazing talks and actionable info.
Sponsored by Ryonet, Allmade, The M&R Companies, SupaColor, Next Level Apparel and Clubhouse Athletic.
Afterparty at Ballast Point Brewing, 212 N. Green St. at 8 PM on Friday evening.
---
BIG NEWS: PrintHustlers Conf 2019 is sold out.
Ready for PrintHustlers Conf 2019?
During July 12th and 13th, the brightest minds in the screen printing and custom apparel industry will gather in downtown Chicago to have candid discussions about their challenges and triumphs.
We're bringing Profit First author Mike Michalowicz as our keynote speaker. We've drafted an amazing lineup of speakers and presenters from inside and outside of the industry. And we're preparting two intensive days of valuable learning and networking with more than 100 other print shops.
From live printing to sales to balancing business and family, we'll have something for everyone.
This event is how to push your business forward and get facetime with the industry's high-level players. There's simply no other opportunity like it.
Event Sold Out
---
PrintHustlers Conf 2019 Schedule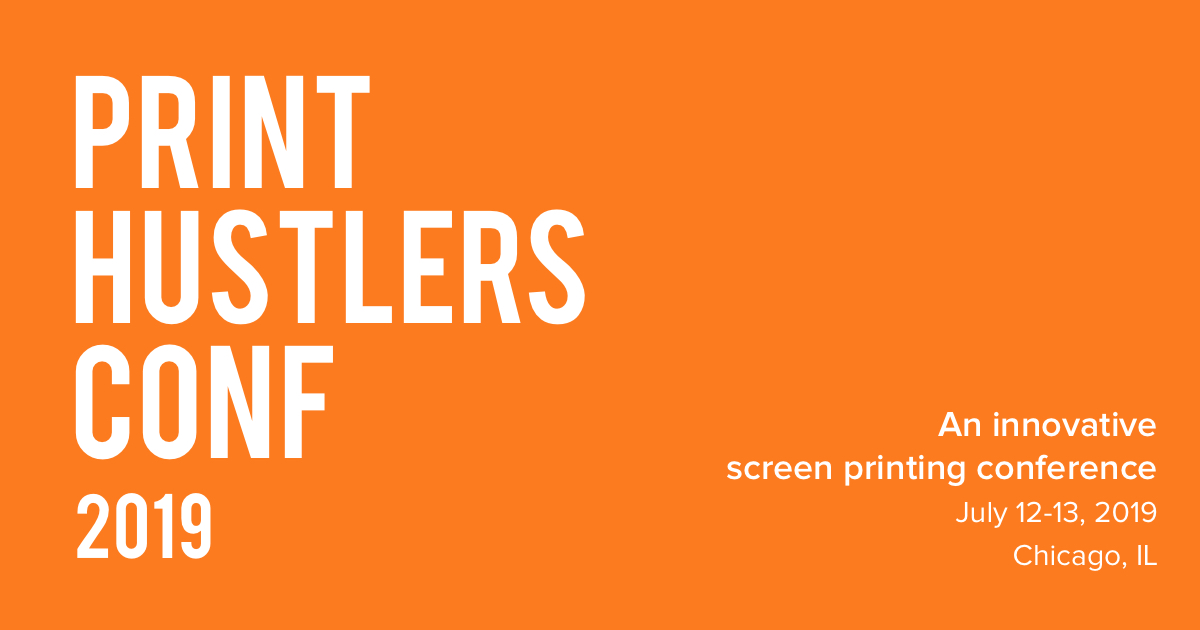 This schedule may change as the event approaches. We'll update this with any changes.
Friday, July 12
Morning Schedule
Afternoon Schedule
1:00 - Dan Bahr from Carema Consulting

Customer Success Driving Sales

1:40 - Tom Gosche from GLM Financial

Listen! Your Financial Statements Are Speaking

2:30 - Breakout Group Sessions

Business Management
Make More, Work Less
Sales Machine

3:10 - Quick break
3:20 - Steven Farag from Campus Ink

Managing Flaky Millennials

4:00 - Mark Seymour and Amanda Mitzman from Next Level Apparel

Blank Apparel Origins & Their Early Adapters

4:40 - Brief wrap-up
Saturday, July 13th
Morning Schedule
8:15 - Breakfast and Check In
9:00 - Day 2 Welcome and Introduction
9:10 - Max Hellmann from Family Industries

Live Printing Tips & Tricks

9:50 - Jon Ladd from Terminus Tees

Diving Into Video Marketing

10:30 - Coffee Break
10:40 - Bruce Ackerman from Printavo

11:20 - Breakout Group Sessions

Printavo
Shop Growth
Millennial Management

11:50 - Catered Lunch
Afternoon Schedule
---
Important Details and Information About PrintHustlers Conf 2019
Tickets are nearly sold out. Don't wait until the last minute – space is limited and we have sold tickets at a record pace this year.
Tickets have sold out! We're sorry if you missed your chance to attend – we'll share videos from the conference afterward on our YouTube channel and here on the PrintHustlers Blog!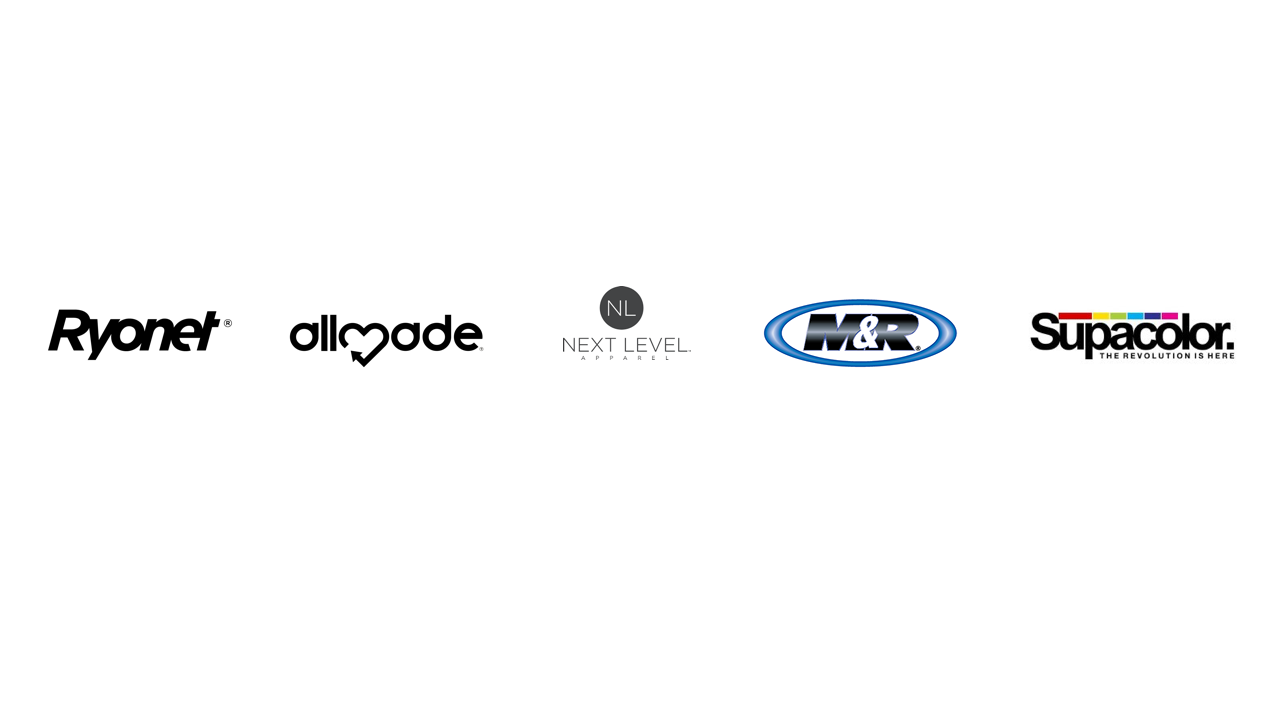 Sponsors
Our sponsors this year include Ryonet, Allmade Apparel, Next Level Apparel, M&R, Supacolor, and Clubhouse Athletic.
Where is PrintHustlers Conf 2019?
PrintHustlers Conf 2019 is at The Flats at East-West University in downtown Chicago. The address is 829 S. Wabash. It's easily accessible by the CTA and is a short walk from many hotels in the downtown area. Click here to see a map.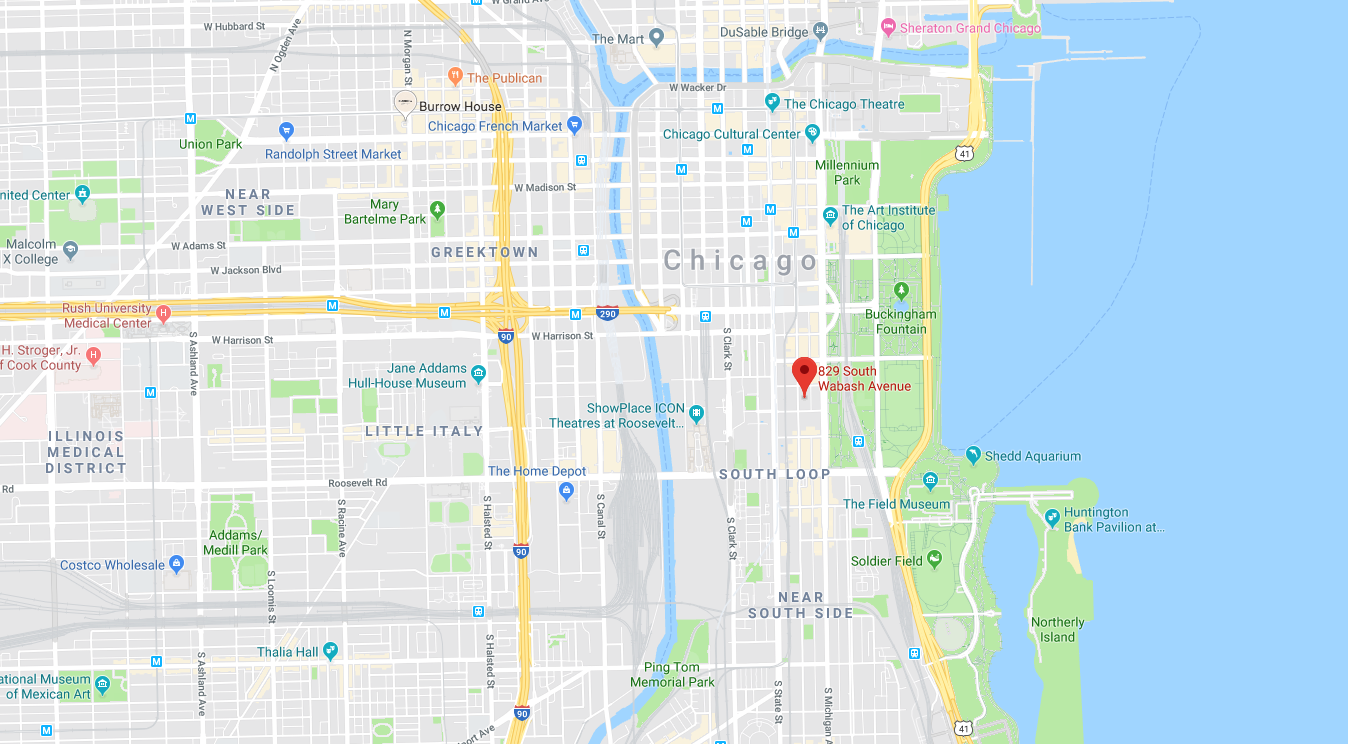 The address for the venue is:
The Flats at East-West University
829 S. Wabash
Chicago, IL 60605
When is PrintHustlers Conf 2019?
Friday July 12th, 9 AM to 5 PM,
Saturday July 13th, 9 AM to 5 PM
Where can I get tickets?
The event has sold out for 2019!
Visit our Eventbrite page for ticket info.
Is there an after-party?
YES! We have teamed up with Ballast Point Brewery to offer an awesome after-party on Friday, July 12th. The event is from 8 PM to 10 PM after the conference.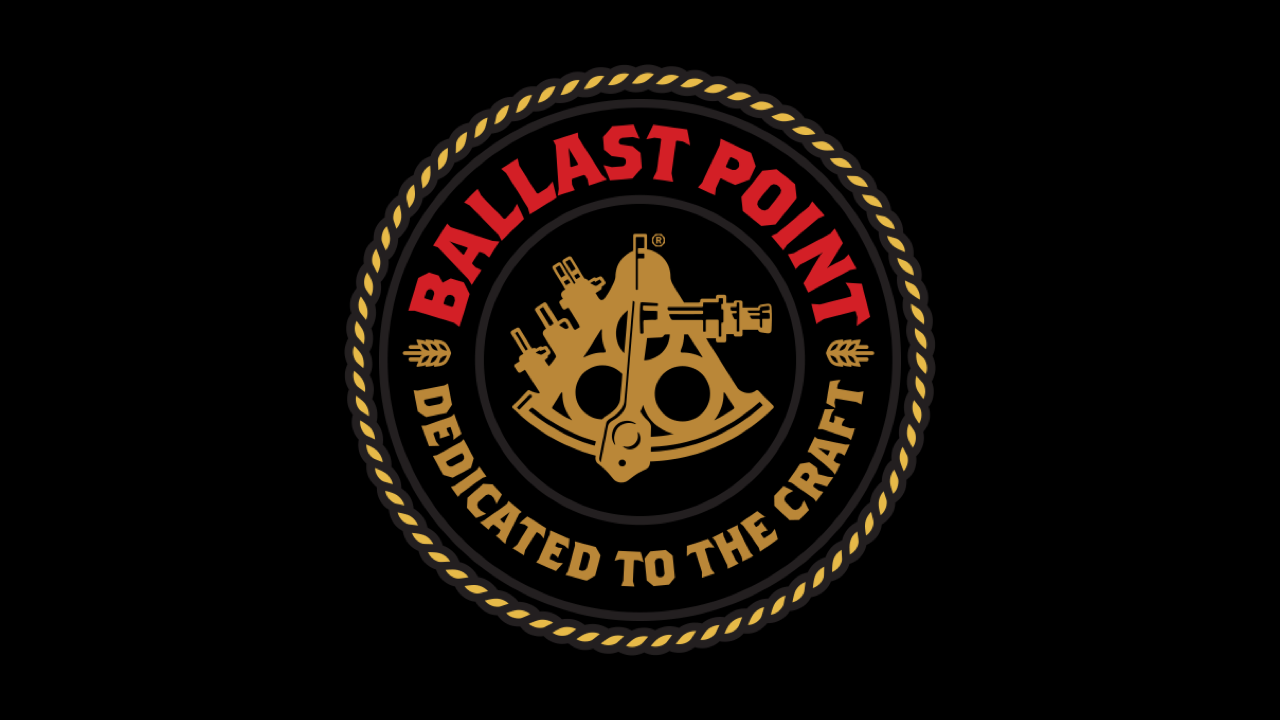 Ballast Point Brewery is a world-renowned brewer of unique beers. Their Chicago location has an incredible rooftop, dozens of beers on tap, an awesome food selection – and is located just 2 miles from East-West University.
Attendees at PrintHustlers Conf 2019 will be provided with free food and drinks!
Ballast Point Brewery is located at:
212 N. Green Street
Chicago, IL
We recommend taking the CTA Green Line from Roosevelt Station to Morgan Station for easiest transit. Rideshare services like Uber and Lyft are also available throughout Chicago.
Is there parking available at the venue?
Parking in downtown Chicago is notoriously difficult. However, the venue does offer a discount for parking.
The address for the parking garage is 1 East 8th Street. If you park in the garage, the front desk has vouchers for a discount.
Nearby amenities and fun things to do
Click any link for Google Map directions.
Food and drink
Morning tacos at La Bodega. A brisk 1.5 mile walk north of the venue, try their gourmet tacos and specialty churros.
Peet's Coffee is located 260 feet from the building, just north on Wabash.
Lou Malnati's Pizzeria is just one tenth of a mile from the venue. Head north to 8th St, turn left and walk to State St. Lou's is on your left. They serve both Chicago-style deep dish and traditional thin crust pizzas, as well as salads, appetizers and drinks. There's also The Art of Pizza just north on State St. as well.
Devil Dawgs on State serves hot dogs and other staples. It's about one tenth of a mile from the venue, just north on State St.
For more substantial food, there's a Trader Joe's just one fifth of a mile south on Wabash.
Attractions and Entertainment
If you have time, we recommend:
Taste of Chicago is happening this weekend. Located close to the venue at the majestic Buckingham Fountain, this multi-day festival features restaurants from across Chicago. Admission is free and it's sure to draw an amazing crowd!
Buddy Guy's Legends is a classic Chicago blues club with music acts 7 nights a week. Only 0.1 mile from the PrintHustlers venue!
Bike, walk or just enjoy the lakefront. Lake Michigan is Chicago's gem. Flanked by more than 18 miles of a multi-use trail, it's easy to walk or bike to enjoy the views and fresh air next to the lake. The lake is easily accessible by walking less than 0.5 mile east over E. Balbo Drive.
Shedd Aquarium and The Field Museum. Beautiful views of Chicago alongside great museums make for a classic outing. These two iconic Chicago museums are less than 1 mile from East-West University.
Tour the neighborhoods of Chicago via CTA. Chicago's vibrant and diverse neighborhoods are easily accessible through the Roosevelt CTA station. You can use the Red Line to access the south and north sides of Chicago, and make transfers throughout. We recommend choosing one or two to explore between Logan Square, Lake View, Chinatown, Hyde Park, the West Loop, Lincoln Park or Uptown.
Visit the Art Institute and see The Bean. Ever wanted to see American Gothic and wander the halls of a prestigious art museum? Luckily, the Art Institute of Chicago is nearby. Don't forget to stop by Millennium Park and the famous Bean sculpture to see your own strangely inverted reflection (and take a killer selfie).
Go to the beach. Montrose, North Avenue and Oak Street beaches offer great swimming opportunities this time of year.
Cruise the Chicago River. Chicago's River Boat Architecture tours are legendary. See a side of Chicago you never imagined, taking in the rich history of building and design that lines the stunning manmade Chicago River.
Check out the top of the city at Willis Tower or the John Hancock Building. Get views that can extend for 50 miles from the city's tallest buildings – and grab a cocktail on the 94th floor at the John Hancock Building. Yes, the building is swaying (it's not just your imagination).
The M&R Companies Tour (Before the Conference)
Finally, several other Print Hustlers have banded together to go visit nearby (~45 minute drive) M&R Companies headquarters on Thursday afternoon before the conference. There's also a dinner party Thursday night. If you wish to attend and learn more details, click here.
---
We're so thrilled to see you at this year's conference. For any questions or requests, feel free to contact us.
Keep pushing, Print Hustlers!